To facilitate communication between university students across the globe under current coronavirus circumstances and explore a new international cooperation model for higher education in the new situation, Shanghai Jiao Tong University (SJTU) launched the initiative - Jiao·Tong Global Virtual Classroom, introducing the new concept of "Global Virtual Classroom" that features a hybrid approach that integrates online with offline instruction, and achieving virtual student exchanges and online mutual recognition of course credits by sharing and co-developing courses with partners.
The shared curriculum program of the initiative provides 20 full-English high-quality courses to the Association of Pacific Rim Universities and about 20 domestic and foreign universities, some of which are based in Japan, the UK, France and Germany in the autumn term of 2021. At the outset of the autumn term, 80-odd international students from Osaka University, Nanyang Technological University, University of Warwick, University College London, INSA Lyon, Technical University of Munich, University of Tokyo and Tokyo Institute of Technology "entered" the Global Virtual Classroom, selecting approximately 100 elective courses. At the same time, 10 international students from the University of Southern California met with SJTU students "on the cloud" in the "Joint Curriculum Development" program of the Global Virtual Classroom. Also, 29 SJTU students will sign up for the online courses of foreign leading universities such as Nanyang Technological University, Waseda University, Osaka University, Korea University and the University of California, Santa Cruz.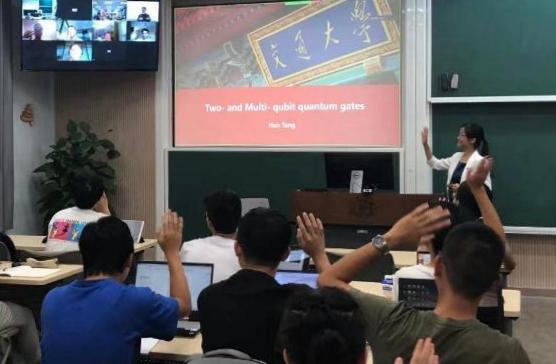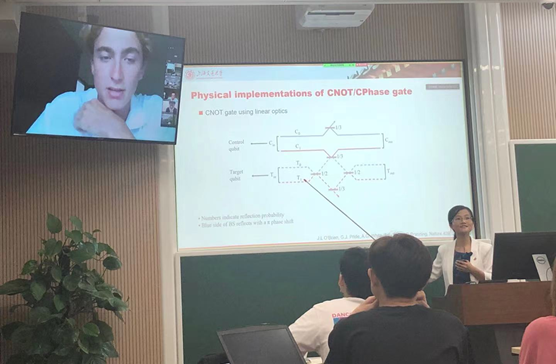 The instructor is interacting with online students in the Global Virtual Classroom
"Quantum Information Technology and Practice"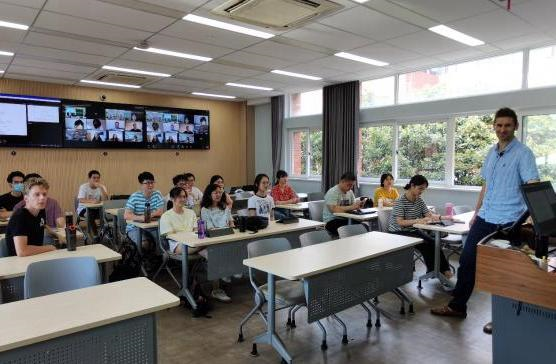 Students are interacting with each other both online and offline in the Global Virtual Classroom
"Introduction to Viral Technology Application and Molecular Virology"
With the support of SJTU's Educational Technology Center, Educational Administration Office, Graduate School and Center for Teaching and Learning Development, the initiative has fully integrated the original public classrooms, and further upgraded and transformed intelligent classrooms in the East Middle Hall, making it possible for students and teachers to have visualized interactions with each other. Zhang Rui, an instructor from SJTU's School of Electronic Information and Electrical Engineering for teaching Digital Image Processing, said that domestic and international students had online and offline real-time lively interactions at the Global Virtual Classroom, which is a brand-new instructional experience.
SJTU has put forward the initiative to share good instructional resources with universities and colleges around the globe, make SJTU's classroom accessible to more international students, bring about the collision of ideas and cultural diversity and provide both the faculty and students with a new paradigm and platform for international cooperation and communication. And the virtual student exchanges between SJTU and leading universities abroad offer SJTU students learning opportunities of access to their curriculum without having to go abroad. SJTU will continue to innovate in technology application and instruction, encourage more educational partners to join the initiative and enhance the curriculum quality and global competitiveness of its students.