Recently, the World University Presidents Forum, jointly organized by the China Higher Education Association, Peking University, and Tsinghua University, was successfully held at Yanqi Lake in Huairou, Beijing. The forum focused on the theme of "Epochal Changes and the Mission of Universities."
President Ding Kuiling of Shanghai Jiao Tong University, an academician of the Chinese Academy of Sciences, attended the forum and engaged in a dialogue on the topic of "University Cooperation and Exchange in the Vision of a Community with a Shared Future for Mankind."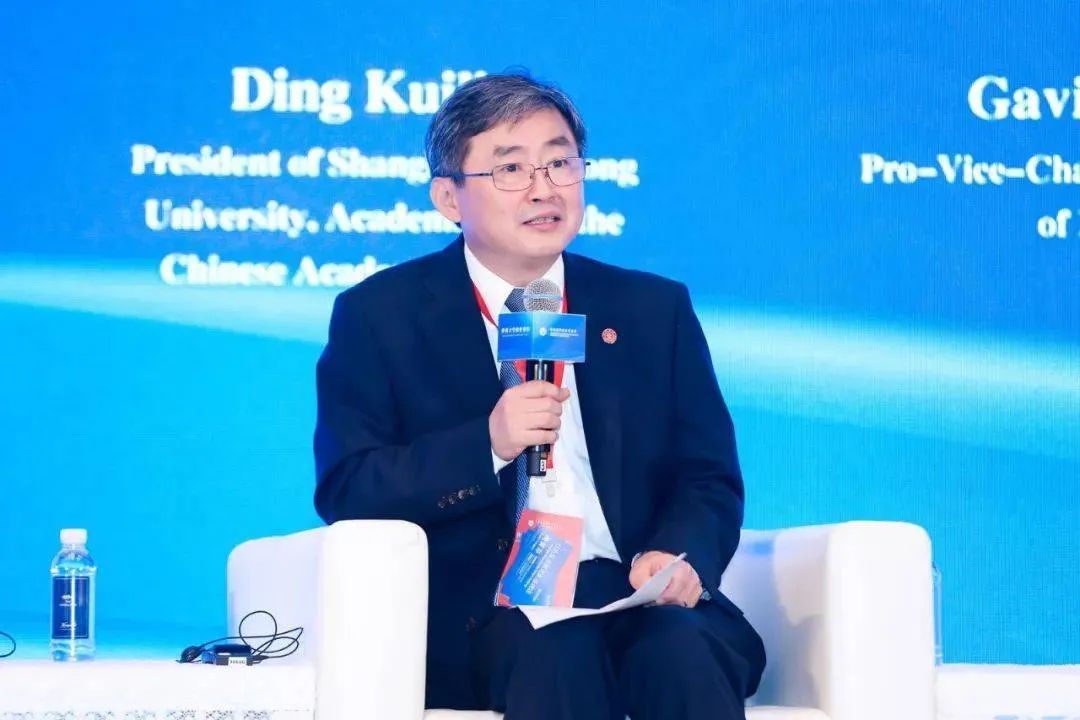 The following content is based on President Ding Kuiling's speech, with some omissions.
Respected guests, good afternoon to everyone! It is a great honor to have this opportunity to share with you the internationalization strategy of Shanghai Jiao Tong University and my understanding of internationalization. We have an old saying in China, "Strength lies in unity, weakness in isolation," which holds true for families and societies alike. Unity makes us strong, while isolation makes us weak. This principle also applies to the world we live in.
Today's discussions covered many challenging issues. Humanity faces many common challenges and problems, such as health, energy, climate, environment, water, and food. However, these challenges cannot be solved by any single country alone. In 2001, Nobel Prize laureate Professor Ryōji Noyori from Nagoya University in Japan stated at a chemistry conference in Istanbul that these problems cannot be solved by any single country, hence the need for cooperation and exchange. This is a driving force behind internationalization and international cooperation and exchange.
Shanghai Jiao Tong University is also a very open institution. As early as the 1920s and 1930s, it was known as the "MIT of the East," with many professors coming from abroad. In 1978, China's first higher education delegation visited the United States for over 40 days, marking the beginning of international cooperation and exchange in Chinese higher education.
Internationalization is an important characteristic ingrained in the DNA of Shanghai Jiao Tong University. I often use chemical reactions as an analogy for international cooperation and exchange. A good friend of mine, who has twice been awarded the Nobel Prize in Chemistry, said that the essence of chemistry is two things: linkage and functionality. In cooperation and exchange, there is linkage and functionality. Through today's forum, we are linking many universities from China and abroad, creating chemical reactions. What we need to do next is to make cooperation and exchange generate functionality and benefits.
The first function is to jointly promote the cultivation of international talents. Looking to the future, the students we are currently educating will likely lead the world in about 20 years. We need to nurture global talents who have an international perspective, cross-cultural communication and cooperation skills, and a sense of responsibility for the world. Shanghai Jiao Tong University has taken practical steps toward this goal by establishing partnerships with over 150 universities and forming strategic partnerships with more than 60 top universities. We have established joint programs with international partners, such as the China-Europe International Business School, SJTU-Michigan Joint Institute, ParisTech Shanghai Jiao Tong University Engineering School, and the International College of Agricultural and Ecological Sciences. The quality of students in these programs is very high.
During the pandemic, we launched the Global Classroom initiative, allowing students from around the world to learn together. Courses are co-created and shared, and the university also launched the United Nations Sustainable Development Goals (SDG) International Summer School, focusing on global issues related to the UN's sustainable development goals and emphasizing the development of students' international competencies. The university has also recently established special funding mechanisms to promote international cooperation in learning. The key to these practices is to guide students to focus on global issues, develop cross-cultural communication skills, enhance awareness and skills for international cooperation and global governance, and improve students' international competencies.
The second function is to jointly promote multilateral cooperation in industry, academia, research, and application on the international stage. In international exchanges, we advocate not only bilateral but also multilateral communication and cooperation. For example, U21 is an excellent platform, and the Association of Pacific Rim Universities (APRU) is another valuable platform. Last year, under the guidance of the Ministry of Education and the Shanghai municipal government, Shanghai Jiao Tong University hosted the 2022 Yangtze River Delta Industry-University-Research Cooperation Conference, facilitating academic and industry-research collaboration. A direct outcome of this conference was the launch of the Sino-German Research University Alliance, which will continue to develop.
The functions of international cooperation and exchange are numerous, but the core is effectiveness. We cannot merely exchange without collaborating. I believe that with collective efforts, we can certainly contribute better to solving global challenges and enhancing the noble cause of education for the betterment of humanity. Thank you all!