The business magazine Fortune (Chinese version) recently released the latest 40 Chinese Business Elites under-40 (Fortune 40 Under 40), one of whom is Sui Shaolong, an undergraduate alumnus of the Class of 2011 of the University of Michigan-Shanghai Jiao Tong University Joint Institute (UM-SJTU Joint Institute) in mechanical engineering.
Profile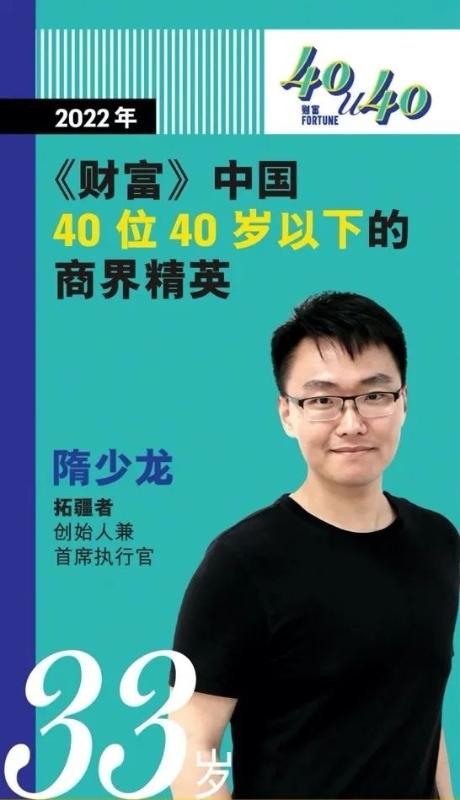 Sui Shaolong, an undergraduate alumnus of the Class of 2011 of the UM-SJTU Joint Institute in mechanical engineering, is the founder and CEO of Beijing Builder Intelligent Technology Co., Ltd. In 2017, he was included in the Forbes list of 30 outstanding talents under-30 in Asia. In 2020, he made it into the ninth batch of Outstanding Young Talents in Beijing.
With rich R&D experience in engineering machinery, Sui Shaolong led a team to focus on remote intelligent control of engineering machinery and provide safer, more efficient, and user-friendly intelligent solutions with multiple scenarios, categories, and collaborative work for engineering machinery contractors in high-risk and harsh working environments. His company has established profound strategic cooperation with leading domestic engineering machinery manufacturers and large Japanese civil engineering general contractors and lessors, and has won several awards, such as the "Zhongguancun High-tech Enterprise", the Excellence Award of the Second "Entrepreneurial Beijing" Entrepreneurship and Innovation Competition, the Second Prize of the Smart Site Contest of the Zhongguancun 5G Innovative Application Competition, and the Excellence Award of the First Global Intelligent Emergency Equipment Competition for Robotic First Responders in 2021. He not only focuses on business research and development but has taken an active part in talent development for the UM-SJTU Joint Institute, as he has contributed to his alma mater in numerous ways, such as by sponsoring graduation design projects, offering mentorship, and providing job and internship opportunities.
About the award
Founded in 1930 by Henry R. Luce, an American magazine publisher, Fortune Magazine is the most influential business magazine in the world. Fortune Global 500, with its tremendous impact, has become the focus of economic circles ever since it was put forward in 1954. Fortune 40 Under 40 is hailed as the "cradle of business superstars".