The European Society of Medical Oncology (ESMO, one of the world's top three oncology societies) Congress 2022 was held in Paris, France, on September 9th, 2022, local time. At the special session on digestive system tumors "Mini Oral session: GI, upper digestive" on September 10th, a study (LBA61) conducted by the team of Professor Wang Liwei, Director of the Oncology Department of Renji Hospital affiliated with the School of Medicine of Shanghai Jiao Tong University (SJTU), was presented. The study is the first clinical research on irinotecan hydrochloride liposome injection combined with 5-FU/LV second-line treatment of advanced pancreatic cancer, which targeted Chinese people and obtained positive results.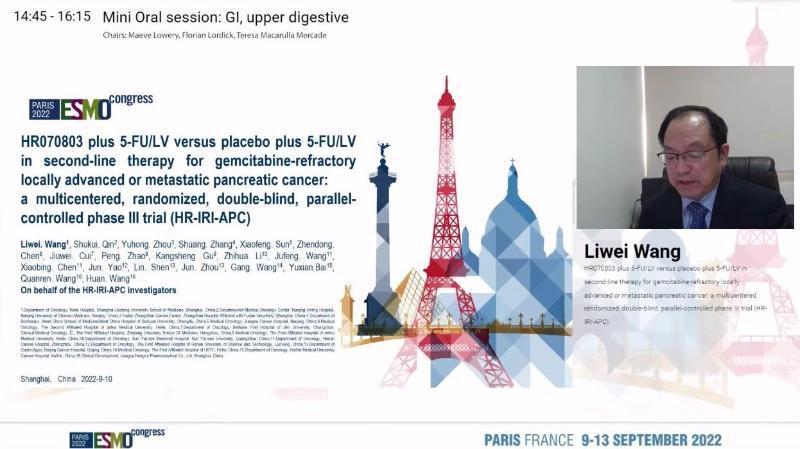 Pancreatic ductal adenocarcinoma is one of the most common highly malignant tumors. According to the GLOBOCAN database of the International Agency for Research on Cancer (IARC) of the World Health Organization, in 2020, there were nearly 500,000 new cases of pancreatic cancer in the world [1], of which 120,000 new cases were in China, accounting for about 25% of the global total, imposing a huge burden on people's health and life. As it is often hard to identify the onset of pancreatic cancer and patients are usually found to be in the late stage when getting diagnosed, drug therapy is the primary treatment. However, the selection of first-line standard treatment schemes for pancreatic cancer is very limited at present. There are nearly no drugs available in the second-line treatment, except for gemcitabine-based or 5-FU-based regimens that are not used in the first-line treatment.
The HR-IRI-APC study, led by Professor Qin Shukui of the General Hospital of the Eastern Warfare Zone and Professor Wang Liwei of Renji Hospital, is a national multicenter, randomized, double-blind, and controlled phase III clinical study. It explored the efficacy and safety of the HR070803 (irinotecan hydrochloride liposome) combined with fluorouracil (5-FU) / folinic acid (LV) regimen for unresectable locally advanced pancreatic cancer (LAPC) or metastatic pancreatic cancer (MPC) after the failure of first-line gemcitabine treatment. A total of 298 patients with locally advanced or advanced pancreatic cancer, for whom first-line gemcitabine treatment was unsuccessful, were included in the study. They were randomly enrolled in the study 1:1 and received HR070803 + 5-FU/LV regimen or placebo + 5-FU/LV regimen, respectively, until disease progression or intolerance. The primary endpoint was overall survival (OS), and secondary endpoints included progression-free survival (PFS), objective response rate (ORR), and safety. The results showed that HR070803 combined with 5-FU/LV regimen for unresectable LAPC or mPC after first-line gemcitabine treatment failure significantly prolonged the median OS (7.39 months vs. 4.99 months) and median PFS (4.21 months vs. 1.48 months) compared with the placebo group, and significantly reduced the risk of death and cancer progression.
The drugs available for the second-line treatment of pancreatic cancer are very limited, but clinical research on such drugs is on the rise in China. HR070803, the first drug independently developed by China to carry out phase III clinical research on the second-line treatment of pancreatic cancer, has shown good antitumor activity and safety in the study, and is expected to become the standard treatment scheme for the second-line treatment of advanced pancreatic cancer, offering new options to Chinese pancreatic cancer patients.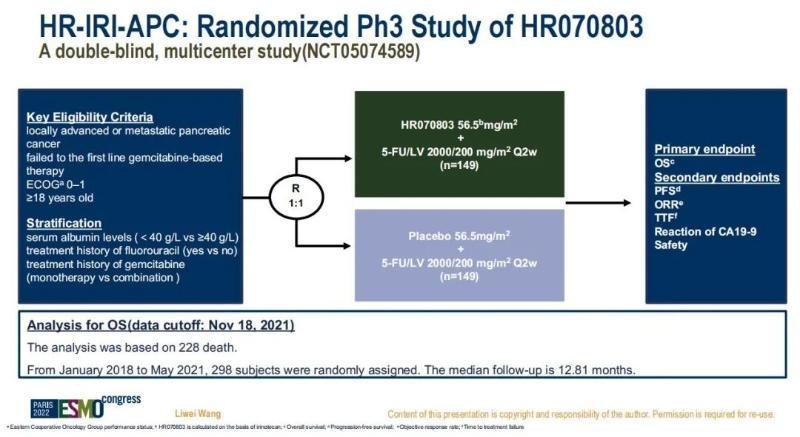 1. Sung H, Ferlay J, Siegel RL, Laversanne M, Soerjomataram I, Jemal A, Bray F: Global Cancer Statistics 2020: GLOBOCAN Estimates of Incidence and Mortality Worldwide for 36 Cancers in 185 Countries. CA Cancer J Clin 2021, 71(3):209-249.