The first international advisory board meeting of Shanghai Jiao Tong University (SJTU) was held at Room 307, Executive Building A, Minhang Campus in the evening on December 8th, 2021. It was remotely attended by former Vice Chancellor of the University of Nottingham and former Chair of the Russell Group David Greenaway, former President of the George Washington University Professor Mark S. Wrighton, former Deputy Registrar of University College Dublin and former Provost of Universitas 21 Bairbre Redmond, former Vice President of KTH Royal Institute of Technology Ramon A. Wyss, former Vice President of Nanyang Technological University and former Secretary General of the Global Alliance of Technological Universities Meng Hwa ER, former Vice President of Heidelberg University Dieter W. Heermann, Associate Vice President of the University of Maryland Ross D. Lewin and Secretary General of the Australian Group of Eight Vicki Thomson. And it was attended in person by Secretary of the CPC SJTU Committee Yang Zhenbin, President of SJTU Lin Zhongqin, Vice President of SJTU Xu Xuemin, Deputy Secretary of the CPC SJTU Committee and Vice President of SJTU Wang Weiming, Vice President of SJTU Zhu Xinyuan, Vice Provost of SJTU Wu Jingyi and staff from SJTU departments. It was facilitated by Xu Xuemin.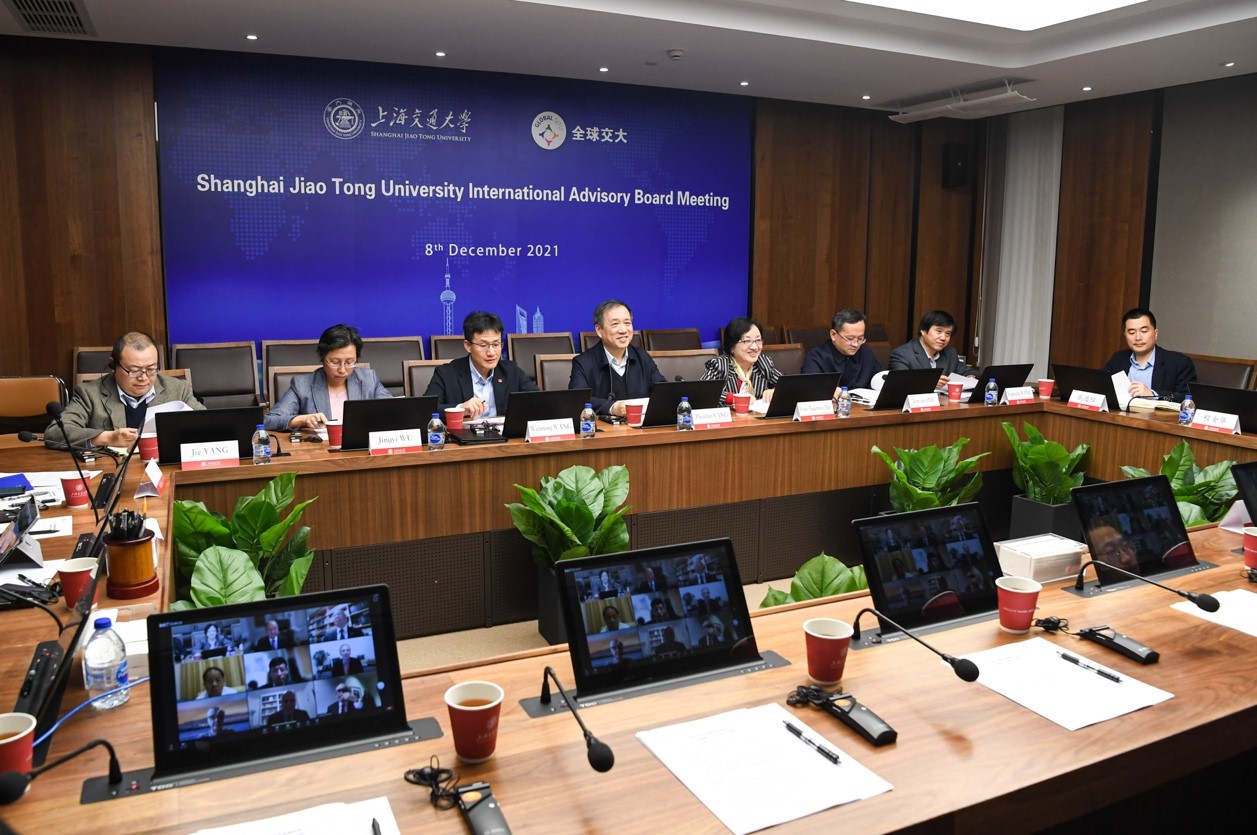 Yang Zhenbin expressed his gratitude to the participants, and said that the International Advisory Board was established to contribute to the efforts of SJTU to open up education and deepen its international approach to education. As he put it, it has been specified in the new development plan of SJTU to build a strategic system of "Global SJTU" for enhancing the capabilities of running SJTU and increase the global impact and international academic say to fulfill high quality and comprehensive development of SJTU.
Xu Xuemin delivered a report titled "SJTU Talent Development and Scientific Research Development with a Focus on International Cooperation and Communication" based on the Fourteenth Five-Year Plan of SJTU, stressing the strategic system of "Global SJTU" that establishes its core philosophy based on influence, leadership, international collaborative network and international environment, facilitates communication based on the United Nations sustainable development goals, develops itself by deepening and developing strategic partnerships, broadening international vision, raising multicultural awareness, assuming global responsibilities, fostering inclusiveness and learning from one another, and implements five action plans: building an international faculty team, enhancing global competency of students, focusing on interdisciplinary and cutting-edge innovation, establishing a network that brings together the world's leading universities and embracing a diverse range of cultures.
Experts brainstormed how to achieve high quality development for Chinese universities and how to better enhance their comprehensive strength and global impact. It was agreed at the meeting that SJTU has become one of the world's leading universities of global impact and that its comprehensive strength has seen significant rise in recent years, which has been widely recognized among the world's leading universities. SJTU was advised by the experts to develop talents by further focusing on soft power building and the awareness of global responsibilities, carry out joint international scientific research innovation with a focus on the world's leading scientific and social issues, and engage in more efficient communication with other leading universities across the globe by building on international cooperation of SJTU and tapping into the potential of international university alliances.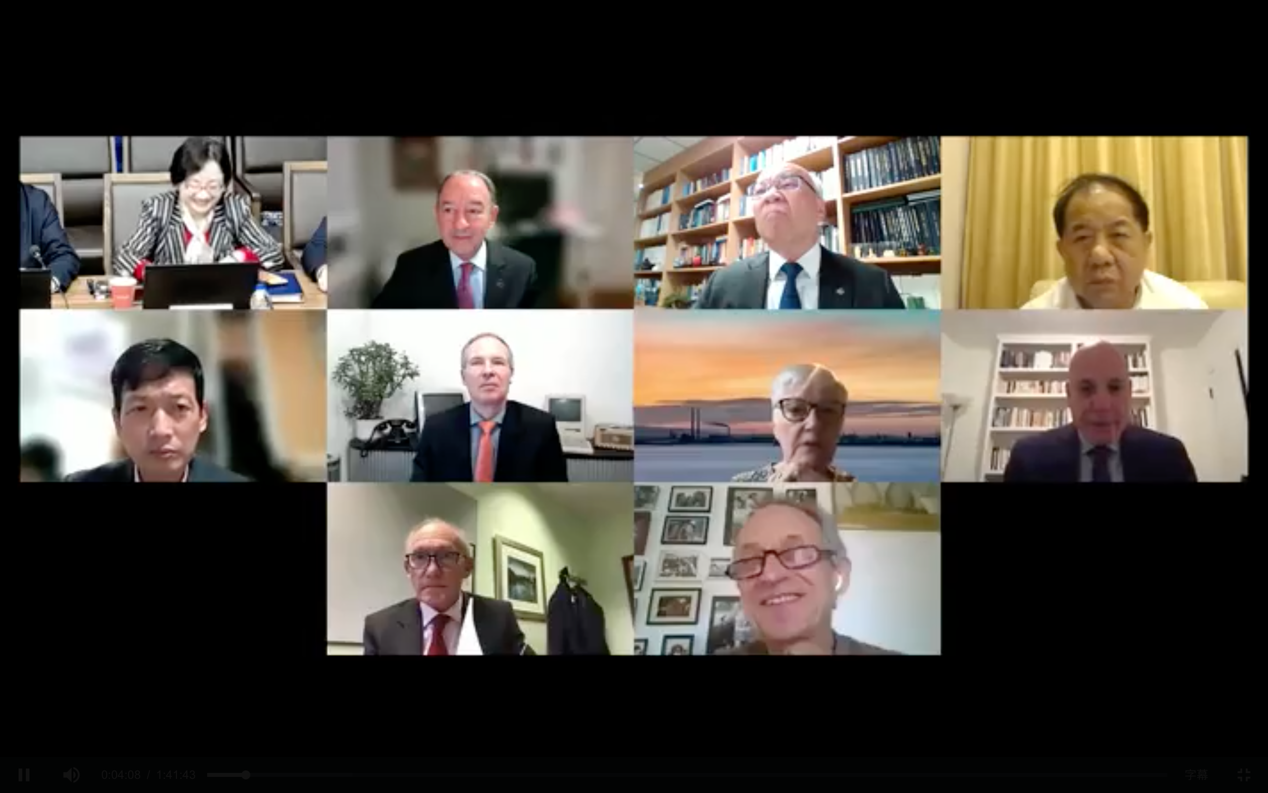 In his concluding remarks, Lin Zhongqin expressed his gratitude to the experts for their constructive ideas, and underlined that many of their ideas and recommendations turned out to be in line with current development of SJTU and would be reflected in the implementation of its Fourteenth Five-Year Plan. Talking about the importance of maintaining multilateral communication as highlighted by the special international situation, he stressed the need to strengthen instructional and research cooperation between SJTU and its partners in the new period, spark interest in innovation and encourage more teachers and students to get involved to embrace the era of constant changes. He finally pointed out cooperation, support and long-term vision as the eternal and beneficial theme for SJTU.
Established for the strategic system of "Global SJTU", the International Advisory Board is aimed at providing strategic consulting services for new development of SJTU from the perspectives of the managers of the world's leading universities and university alliances, leaders of international organizations and international education research and evaluation experts, in a bid to attain the strategic goal of raising global awareness and jointly pushing for international efforts to run SJTU. The board is staffed based on invitation.