On the morning of January 30, 2018, accompanied by China's Public Diplomacy Association Deputy Secretary General Ren Yuhong, 30 people including media, think-tank, experts and scholars and young leader from Vietnam, Laos, Cambodia, Myanmar and Thailand paid a visit to Shanghai Jiao Tong University.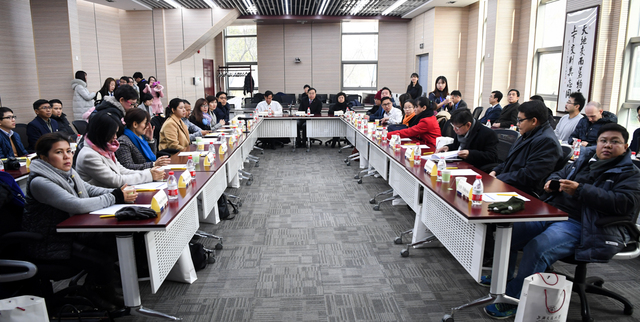 SJTU Vice President Xi Lifeng met with the guests in the Zhenhua meeting room of School of Mechanical and Engineering at Minhang campus.Xi Lifeng briefly introduced the cooperation and exchanges between SJTU and Lancang-Mekong Cooperation(LMC), and further explored the potential of new cooperation.
Ren said that the delegation's visit to China is of great significance to deepen people-to-people and cultural exchanges between China and the Mekong sub region.
The head of the Cambodian delegation and the head of the mission, Philomlack VILAY, pointed out that the visit is essential to the deepening of friendship.
Guo Liang introduced the basic situation of SJTU.
Zhang Junliang introduced the general situation of the college of mechanical and dynamic engineering.
Chen Weidong introduced the robot research and development achievements of School of Electronic Information and Electrical Engineering of our school.
After that, a delegation visited the robotics institute laboratory of School of Mechanical Engineering and biological medicine manufacture and quality of life research laboratory, and had an in-depth discussion about robot research and development of Shanghai Jiao Tong University.